Choosing a thermostat for an in-floor electrical radiant heating system
3 MIN. READ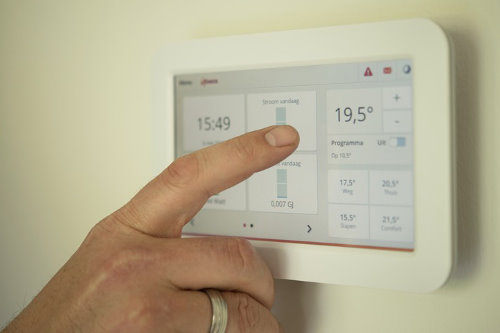 The best heating system in the world won't give you the results that you want if you don't adequately control it. Thermostats that do the job come with an amazing, and sometimes confusing, array of features. The experts at ThermoSoft® can help you choose just the right model for your in-floor electric radiant heating system to provide the comfort you and your family deserve.
Thermostats engineered for the job
ThermoSoft® offers many models of thermostats to work along with your in-floor electric radiant heating system. Four of them, the UWG4-4999, UDG4-4999, UDG-4999 and TH115-AF-GA/Uare programmable. These thermostats can be set to accommodate a schedule that fits your lifestyle and help you save on energy costs. The first two come equipped with the touch screens that users of smartphones and electronic tablets find so familiar. The UWG4-4999 is also Wi-Fi enabled, and it can be controlled from the internet, providing an additional level of convenience.
If you prefer not to restrict control of your heating system to a set schedule, ThermoSoft® also has four specially selected manual models, the UTN4-4999, TH114-AF-GA/U, MTC-2991UFH and MTC-1991UFH.
Some thermostats can operate only on 120 volts or 240 volts. You can set more sophisticated thermostats for either. It is essential that you choose a thermostat that is compatible with your system. ThermoSoft® offers floor sensors that work with thermostats to ensure a safe and comfortable temperature.
How many thermostats do I need?
Each home has unique characteristics. While each thermostat requires a sensor, the combination of sensors and thermostats perform a variety of functions. If you have an area with temperature-sensitive flooring, a combination of a sensor and a thermostat will prevent exceeding a maximum floor temperature. When you install an electric radiant heating system in your bathroom, your sensor and thermostat will ensure that the system maintains a warm enough temperature to avoid chilling your toes on the tile. For rooms with south facing windows, sunlight may cause the air temperature to rise throughout the day; you will want to maintain the floor temperature at optimum levels without wasting electricity. ThermoSoft® advisers can help you choose the right thermostat to ensure maximum comfort in whatever rooms you install underfloor heating.
Who should install my thermostat?
Homeowners can readily install many of our radiant heating systems. Even if you are a top-notch do-it-yourselfer, it is always wise to consult with a qualified electrician before making any new electrical connections, to ensure that your wiring is appropriate for your project. Thermostats can be damaged if the maximum current, generally 15 A, is exceeded. After consulting your electrician, if you'd prefer to hire a professional installer to put in your radiant heating system, ThermoSoft® can help you choose one. We maintain a program for qualifying contractors and can refer you to one in whom you can have complete confidence. We're here for you ThermoSoft® provides complete support for our products. Call us and we'll help you select the thermostat you'll need to create a cozier, more welcoming home.
Meta Title:
Choose the right thermostat
Meta Description:
ThermoSoft® advisers can help you choose the right thermostat to ensure maximum comfort in whatever rooms you install underfloor heating.
Meta Keywords:
thermostat