ThermoTub® Heaters
Radiant Heating Pads for Bathtubs and Showers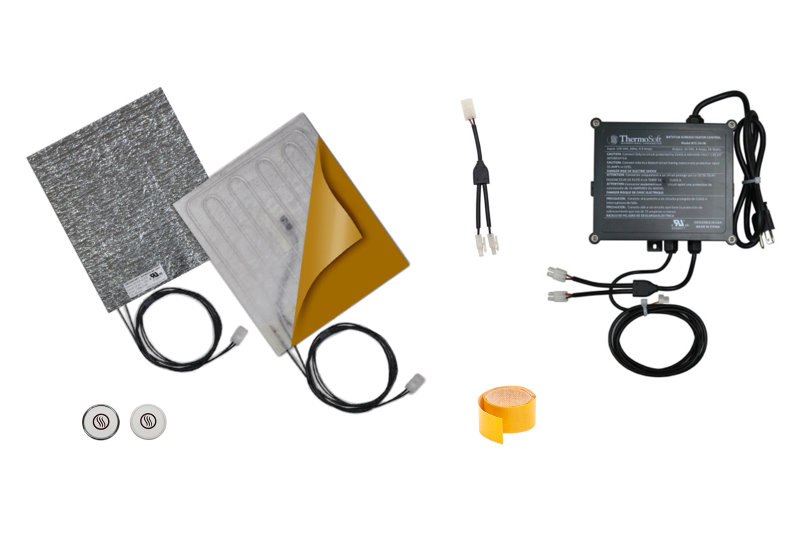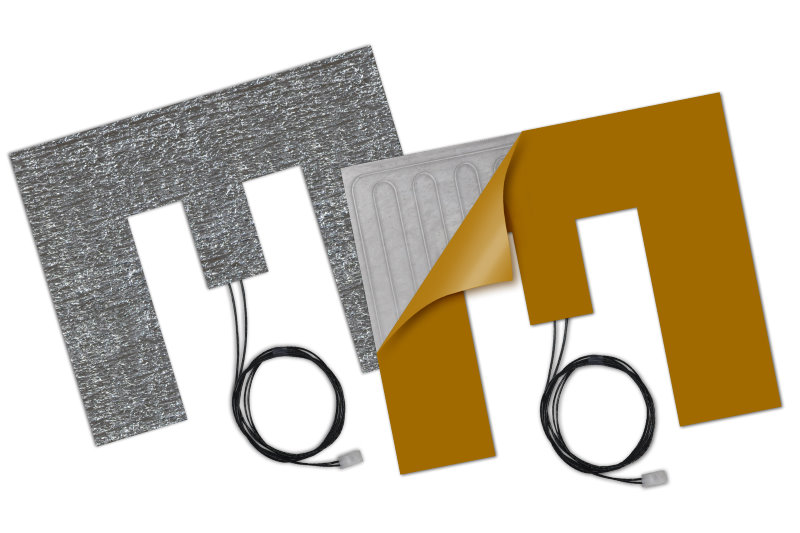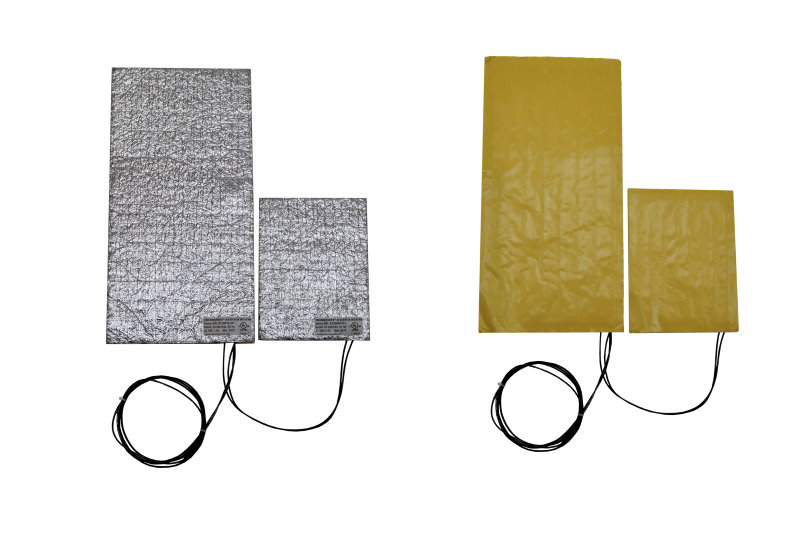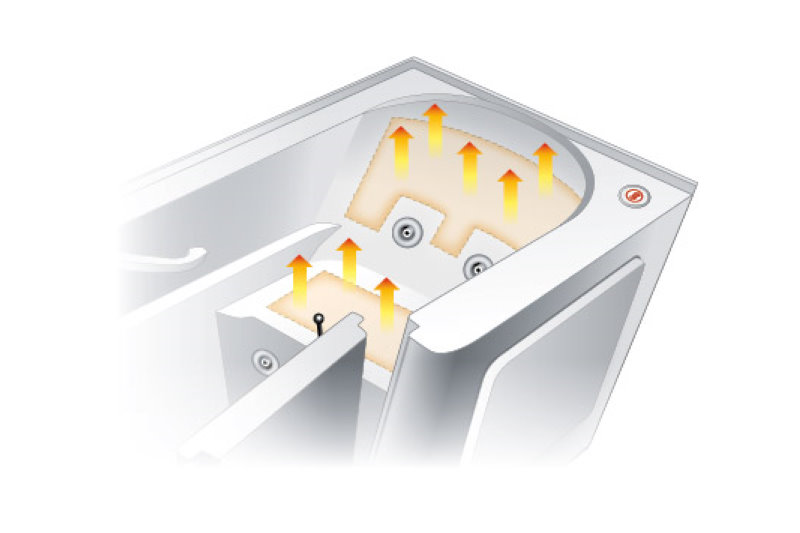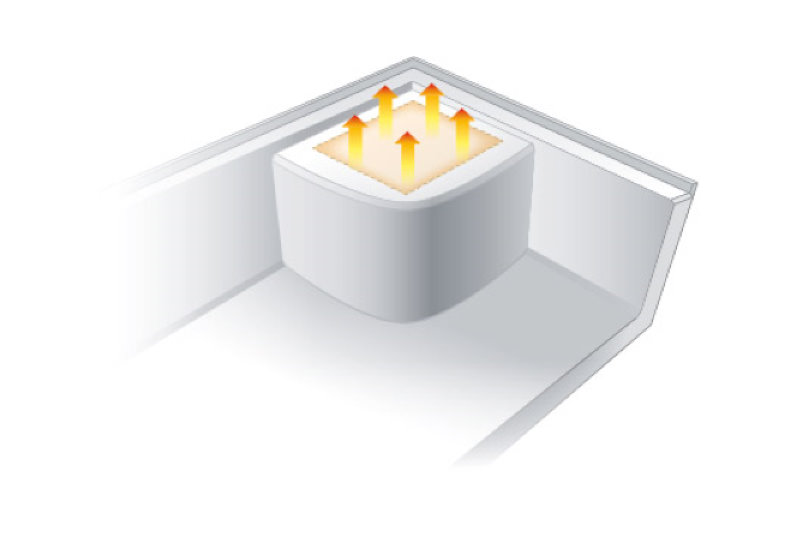 Shop Now
Controller handles up to 4 heaters
Speedy and efficient warm-up with integrated foil and foam insulation.
One touch control and adjustment for optimum customized comfort level.
Peel and stick installation with plug and play controls for fast install
Proven brand-name controls and outdoor-rated sensors
Hermetically sealed connections for reliable performance in wet areas
Made in the USA and UL listed
Settling in for a nice relaxing bath? Taking a seat in a walk-in tub as it fills up? Hate having to brace yourself for that moment your back hits the porcelain and that chill goes up your spine? Fear not! ThermoSoft has the answer to chilly tub surfaces with ThermoTub adhesive heaters. The surface of a tub is frequently much cooler than the water around it, so a adhesive heater on the back side of your tub's surface completes the luxurious experience of a relaxing bath, and makes the process of waiting for a walk in tub to fill a much more comfortable prospect. ThermoTub is available in various sizes and shapes to suit your seat, backrest, or armrest applications. The heaters apply an ultra-fast warmup so you can start enjoying your bath and leave the shivers behind immediately!
Shop today to complete you bathing experience with this affordable luxurious add-on!
Bathtub Heaters
Select multiple sizes and shapes to fit your backrests, armrests, and tub seats. Connect up to 2 heaters per control or up to 4 heaters per control with 2 ThermoSplitters. DO NOT EXCEED 3A PER CONTROL.Contact us for project assistance.
Item
Size
Power
Price
Qty
BTH0212-201
2" x 12"
0.2A

5W

$98.37
BTH0312-201
3" x 12"
0.3A

7W

$101.86
BTH0316-201
3" x 16"
0.5A

12W

$142.56
BTH0412-201
4" x 12"
0.5A

12W

$140.00
BTH0608-201
6" x 8"
0.5A

12W

$142.56
BTH0612-201
6" x 12"
0.7A

17W

$158.84
BTH0616-201
6" x 16"
1.0A

24W

$180.47
BTH0812-201
8" x 12"
1.0A

24W

$176.28
BTH0816-201
8" x 16"
1.4A

34W

$198.14
BTH0912-201
9" x 12"
1.2A

29W

$184.19
Page 1/2
Controllers & Sensors
ThermoTub accessories and controllers make installation and operation easy. Rapid warm-up, one-touch temperature maintenance, 30 minute automatic shutoff, and energy-saving settings reduce operating costs. Contact an expert for guidance.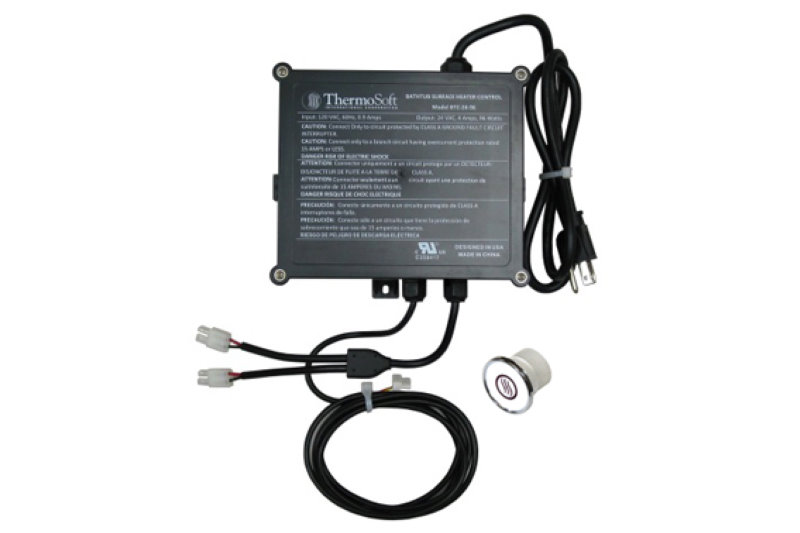 Tub Heating Controller Kit
BTCK-12024-2CHWH
Comes with ThermoSplitter and Soft Touch LED Keypad.
$162.20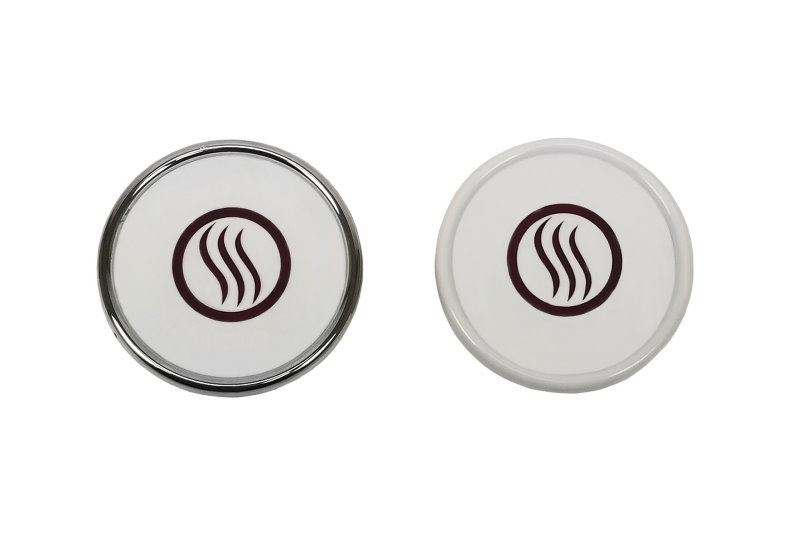 Soft Touch LED Keypad
BTH-KPD2-CGA-WH
One keypad for on/off operation. Choose from white or silver.
$24.95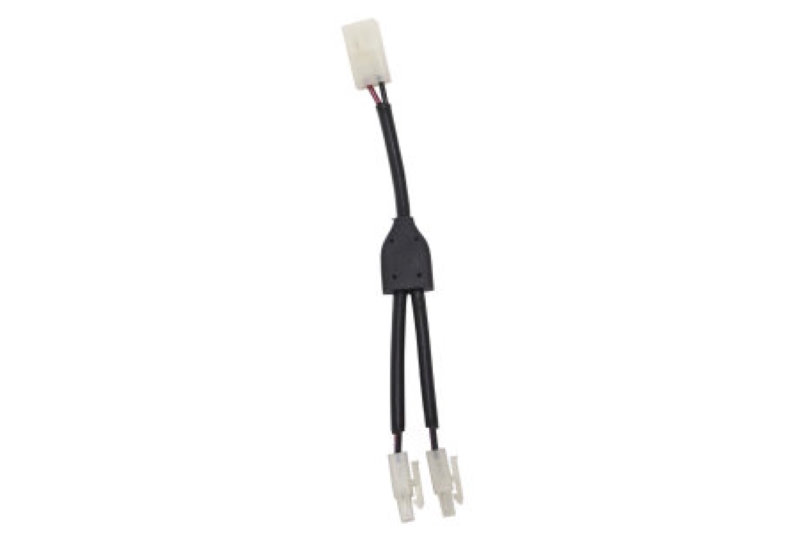 ThermoSplitter
BTH-SPL
Connect multiple heaters easily.
$24.95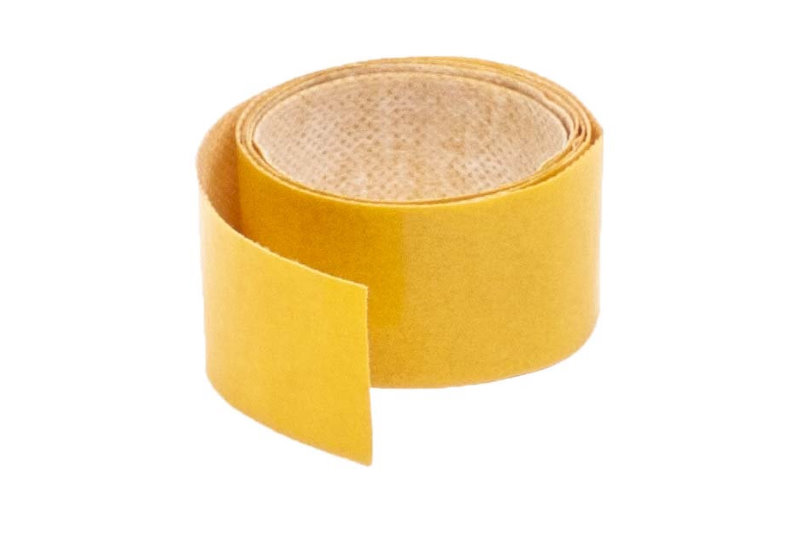 TubTape
TubTape
Easily tape seams and edges with special cloth tape.
$5.00
How To Install ThermoTub Pad?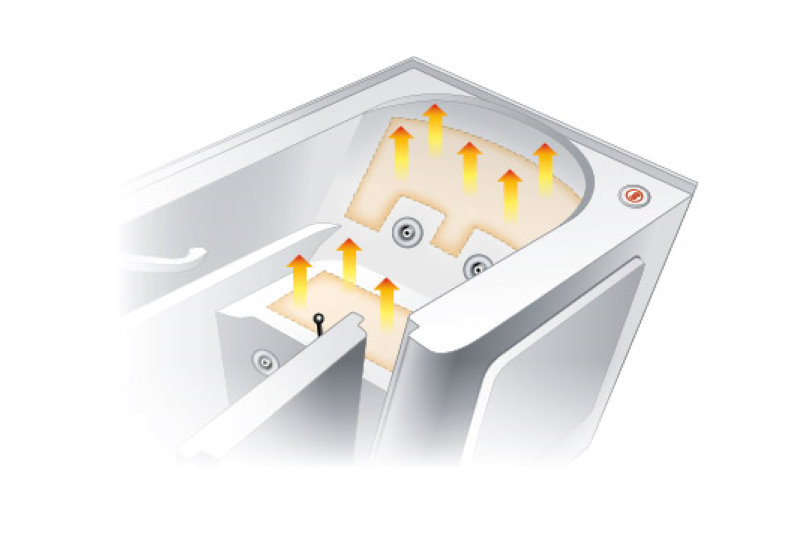 This overview does not substitute for a full reading of the Installation Manual.
ThermoTub is designed for quick and easy installation in the field or factory. Whether you are a do-it-yourselfer or a professional installer, ThermoTub can be installed in as little as 10 steps as illustrated below. Just be sure to follow the detailed instroctuions provided with every order and local codes.
1Provide 120V GFCI circuit with access.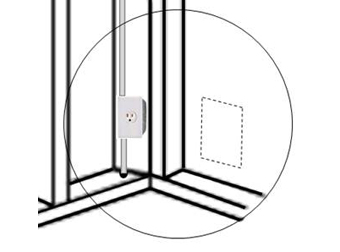 2Clean surface of tub.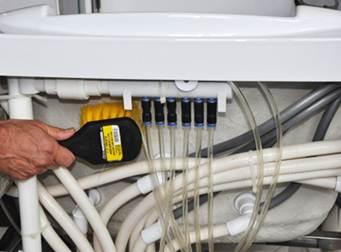 3Peel off release paper and position heater.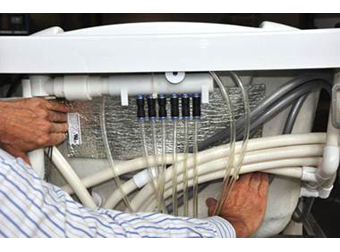 4Attach control to tub frame.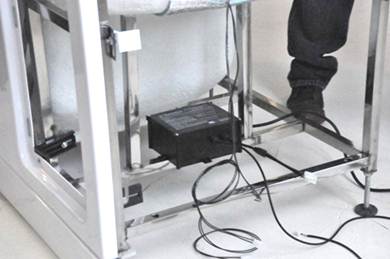 5Use mounting tabs to secure control.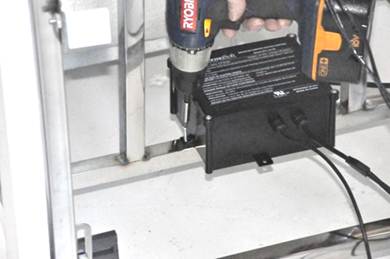 6Or attach control to 2x4 secured to floor, or between alcove studs (see last photo).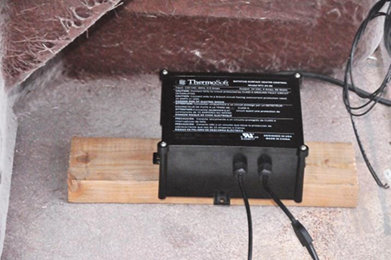 7Connect keypad cord to keypad.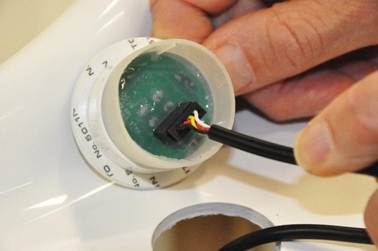 8Peel release paper from underside of keypad.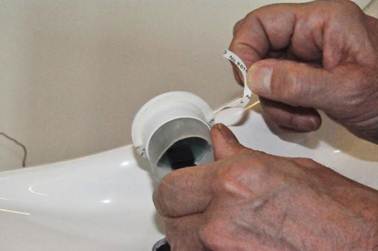 9Press keypad into hole drilled in tub, wall, or extension shelf.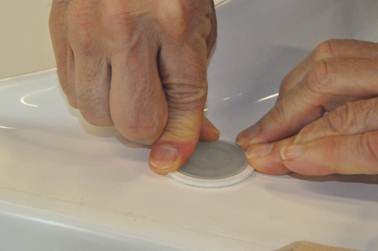 10Remove release paper, press decal on keypad.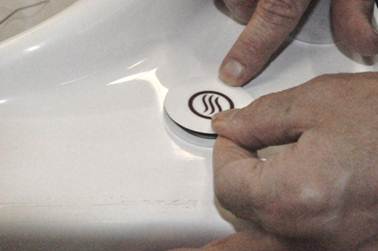 11Snap keypad ring over keypad.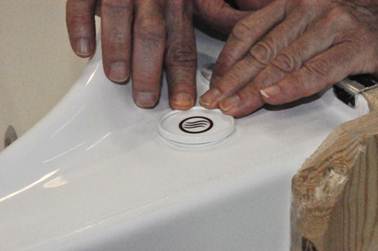 12Apply silicone seal around keypad.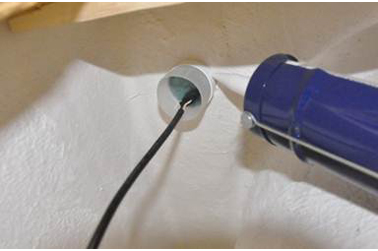 13Make all connections.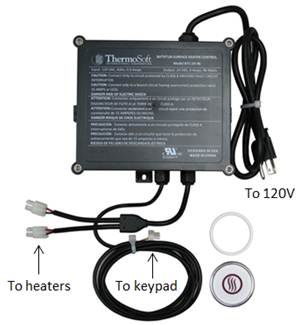 14Connect heater(s) to control.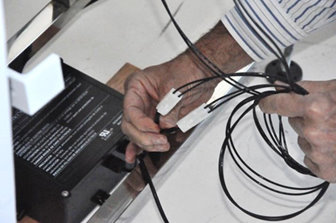 15Plug control into 120V GFCI circuit.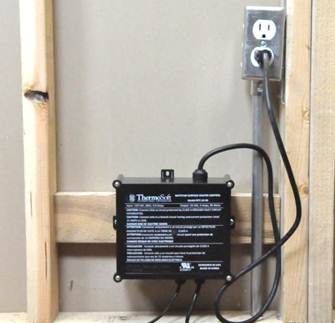 ThermoTub FAQ
What is ThermoTub?

ThermoTub is an adhesive heater that is applied to the back side of a bathtub, shower seat, or walk-in tub. By "back side", we mean the side that is not exposed to the water.

Shop Now
Is this a safe product to put in my home or business? What about EMF?

Yes. All our heating solutions endure rigorous development and quality control testing to ensure that your floor heating system is reliable and safe. Due to the shielding used in ThermoSoft products, our radiant heat systems add virtually zero EMF.

Shop Now
Can I use ThermoTub with my tub material?

ThermoTub can be used with most contemporary tub materials, but is not compatible with cast iron. You can use ThermoTub with acrylic or comparable materials including fiberglass, gel coated fiberglass, acrylic/fiberglass combinations or acrylic capped ABS. If you don't see your tub material listed, just give us a call and we can help you confirm that ThermoTub will fit with your application.

Shop Now
How do I install ThermoTub? How does it all get connected?

ThermoTub has an adhesive layer built in that adheres to the surface of the back side of the tub. The adhesive pads have easy connectors that link to a controller which is then plugged in to a standard GFCI 120-volt outlet or hard wired through a junction box. Check out our install section and full installation manual for more details on this.

Shop Now
Will this be visible?

The ThermoTub heaters will be completely invisible. The only visible component for a standard installation is the single button controller.

Shop Now
Can I combine more than one heater to fit my tub?

Yes. Up to 4 heaters can be placed on a single controller, which is sufficient for most applications. You can utilize multiple controllers if needed. Keep in mind each heater has an assigned wattage output rating. A single controller can handle up to 96 watts, so consider your wattage total when combining heaters.

Shop Now
Can I cut, shorten, or reshape the heaters?

No, you cannot cut or puncture the heaters. If you do not see a size and shape that fits with your application, call us and we can discuss custom sizing with you.

Shop Now
Can I shorten the cables?

No, the wiring that extends from the controllers to connect to the heaters has special connectors and therefore cannot be shortened.

Shop Now
How much will it cost to run this system?

The cost to operate is dependent on how much area (and therefore wattage) of heater that you have, how frequently you use your heaters, and your local electrical rates. Operation cost is impossible to estimate accurately here, but feel free to give us a call to discuss! Keep in mind that as a controller handles up to 96 watts, the cost to operate can be likened to a 100 watt lightbulb that is lit infrequently.

Shop Now
How hot does ThermoTub get?

The temperature that is reached by ThermoTub is dependent on the ambient temperatures of the room. The controller allows the user to stop the heat-up at a given level and maintain a temperature for 30 minutes. The system shuts off after 30 minutes for safety, but can be reinitiated.

Shop Now
How long will ThermoTub last? How long is the warranty?

ThermoTub has a 3 year warranty on the heating pads, and the controllers have a 2 year warranty.

Shop Now
I'm still confused.

Then call us, email us, or message us through our website!

Shop Now
Our Commitment to You
Supported by Real People
We know that being the best doesn't just mean superior products, it means backing them up with superior service.
Priority 1: Making You Happy
Creating joy and comfort with our heat applications is our primary motivation.
Industry-Best Value
American-made quality, easy installation, and safe operation. All competitively priced for the best value in radiant heating.
Innovative & Reliable Design
Pushing the industry forward with innovation and here for long haul with the greatest reliability. That's why our systems are in our homes too.
Understanding Your Needs
ThermoSoft is the best partner for your project because we know when to listen, and when to offer guidance.
Persistent Integrity
Our reputation is one of our best assets. We developed that reputation by delivering on every promise.