NeverFreeze® Snow Melting Cable
Electric Radiant Heating for Driveways, Patios, and Walkways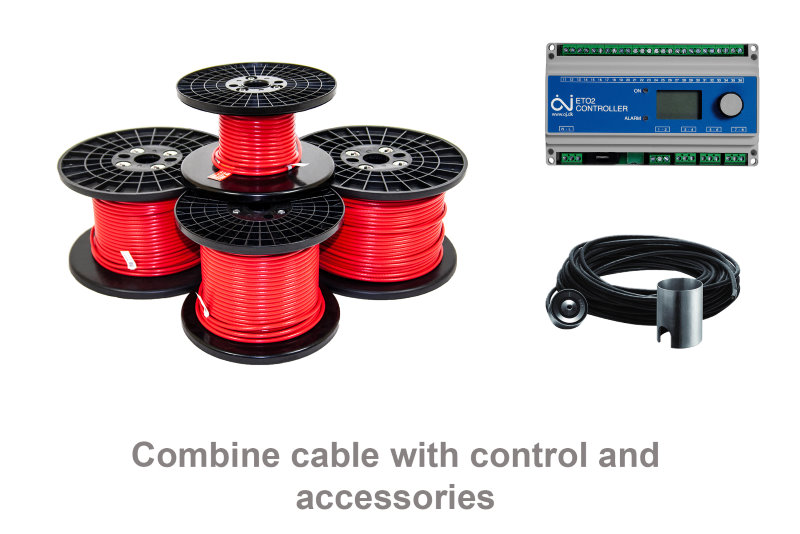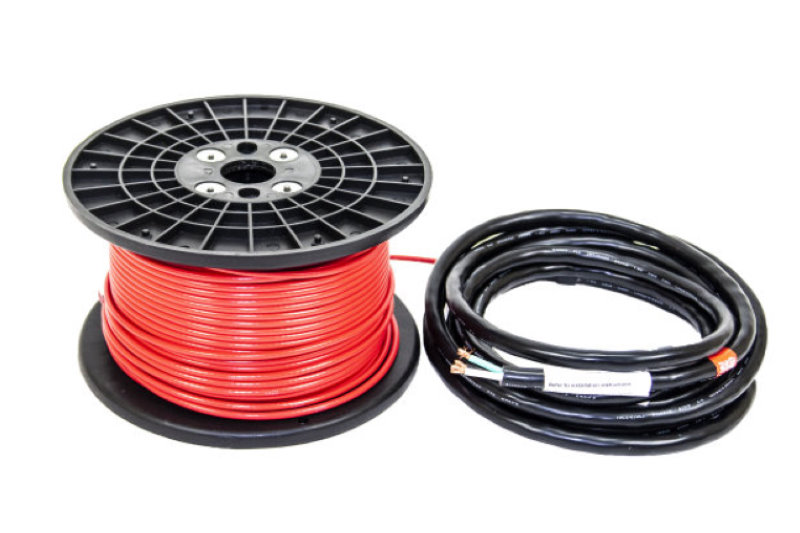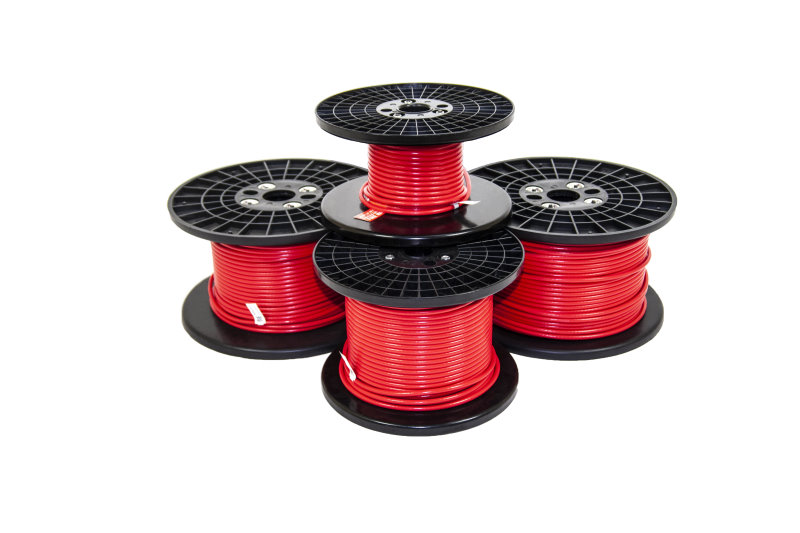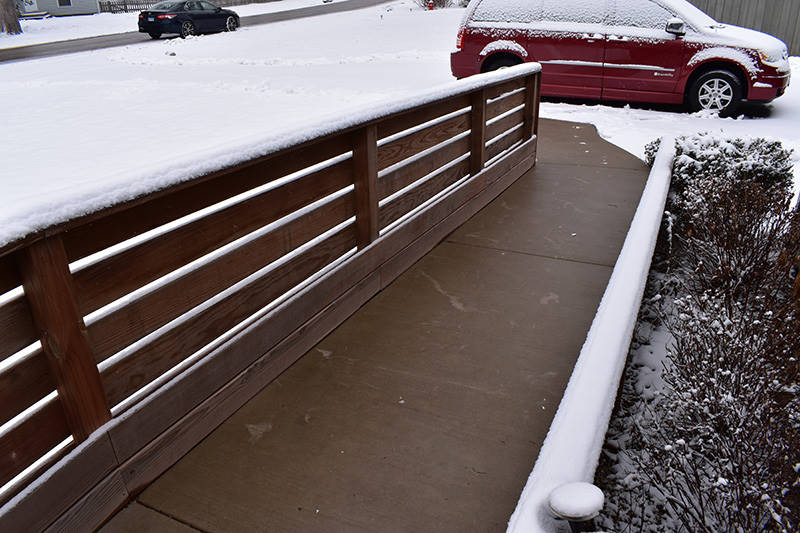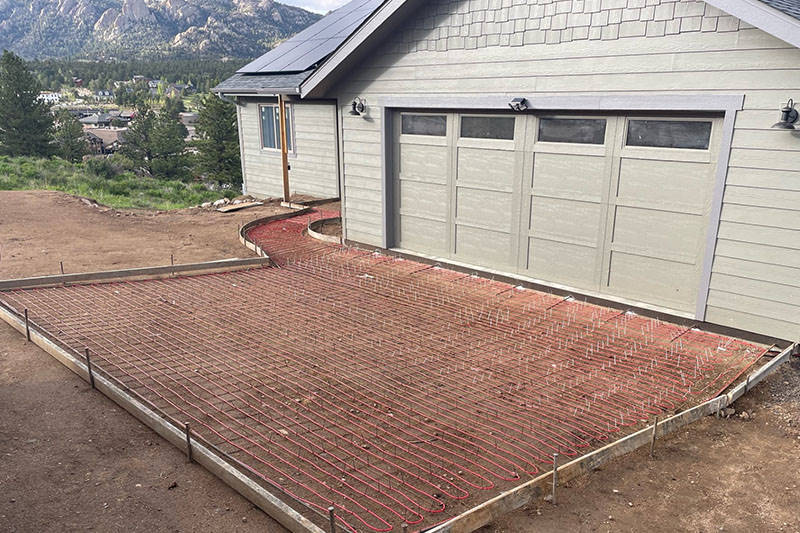 Shop Now
Engineered to install in concrete, asphalt, or under pavers
Designed for both residential and commercial applications
Single cold lead wire for easy hookup
Proven brand-name controls and outdoor-rated ground sensors
With a NeverFreeze snow melting system, you can watch the snow fall peacefully from inside your warm home without worrying about shoveling your driveway or deicing your walkways. NeverFreeze snow melting cable provides a radiant heat solution that functions as a permanent addition to your outdoor spaces, persisting through any weather conditions that nature may bring. It is an excellent option for high-traffic areas like walkways and steps that are commonly slippery and hazardous.
Driveway & Walkway Heating Cable
NeverFreeze cables are optimized to deliver the same heat output while providing 30% more coverage than competing snow melting cables. Less cable translates to a lower project cost and fewer cable securement points resulting in an easier installation. Reach out to our technical support team for 208V, 277V, 480V, and 600V applications.Contact us for project assistance.
Cable spacing:
Item
Size
Power
Price
Qty
TSMC36-240
12 ft²

36'

2.3A

540W

$380.00
TSMC55-240
18.5 ft²

55'

3.4A

811W

$442.00
TSMC90-240
30 ft²

90'

5.6A

1351W

$528.95
TSMC165-240
55 ft²

165'

10.4A

2501W

$843.95
TSMC220-240
73.5 ft²

220'

13.8A

3300W

$1,064.95
TSMC255-240
85 ft²

255'

15.9A

3821W

$1,234.95
TSMC290-240
97 ft²

290'

18.1A

4351W

$1,259.95
TSMC330-240
110 ft²

330'

20.6A

4951W

$1,434.95
TSMC370-240
123.5 ft²

370'

22.9A

5501W

$1,577.76
TSMC420-240
140 ft²

420'

26.3A

6300W

$1,799.98
Snow Melt Controllers & Sensors
Customize temperature, moisture, and timing settings with a snow and ice melting controller. A ground or aerial sensor is required for a complete system. Some controllers are not rated for outdoor installation. Ground sensors are designed for flush installation with the outdoor heated surfaces. Contact an expert for guidance.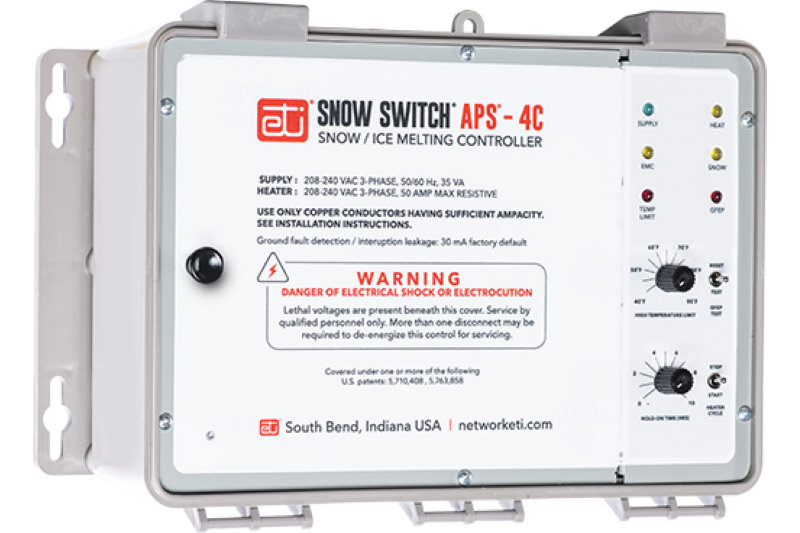 ETI Industrial Controller with GFI (50A)
ETI-APS-4C-SO
$1739.00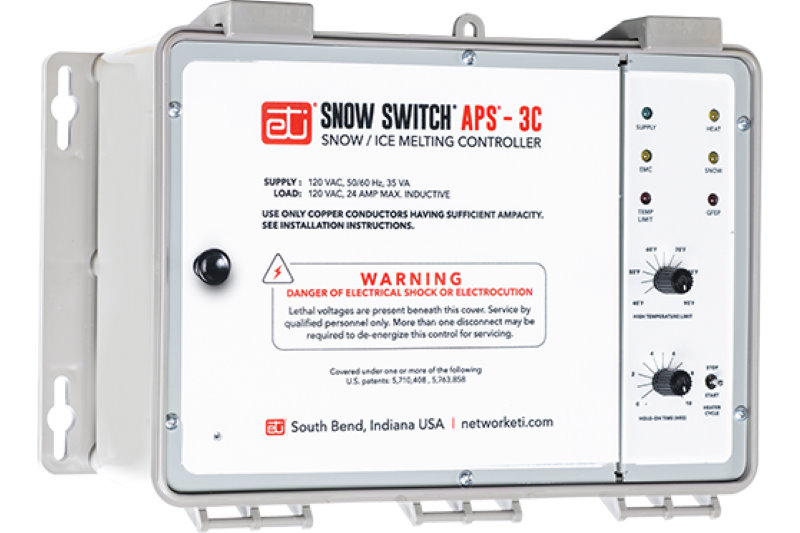 ETI Commercial Controller for Pilot Duty (25A)
ETI-APS-3C-SO
$1586.00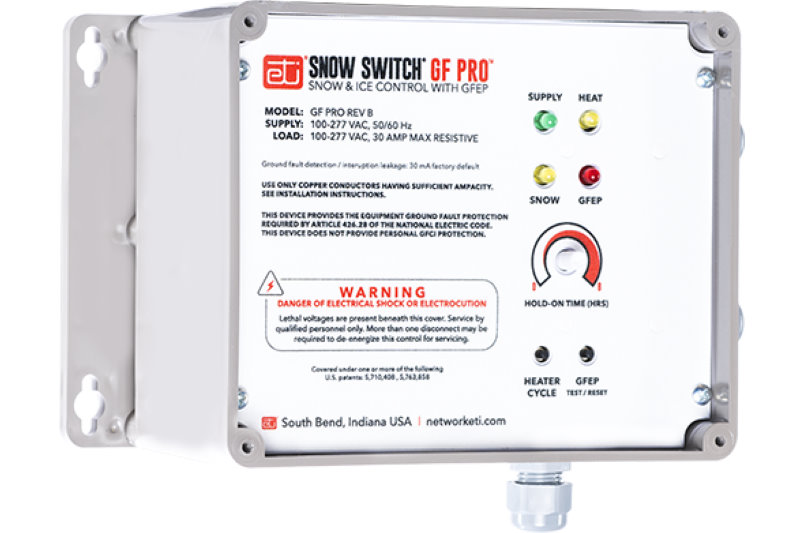 ETI Residential Controller with GFI (30A)
ETI-GF-PRO
$704.00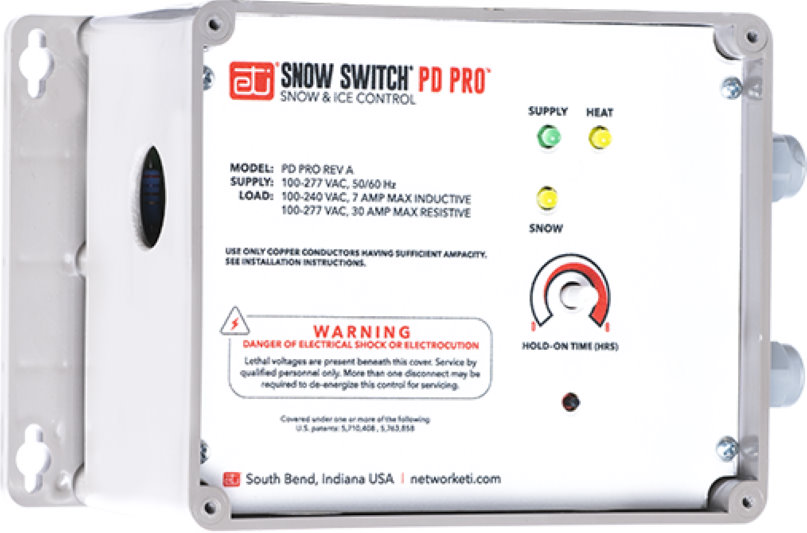 ETI Residential Controller for Pilot Duty (30A)
ETI-PD-PRO
$634.00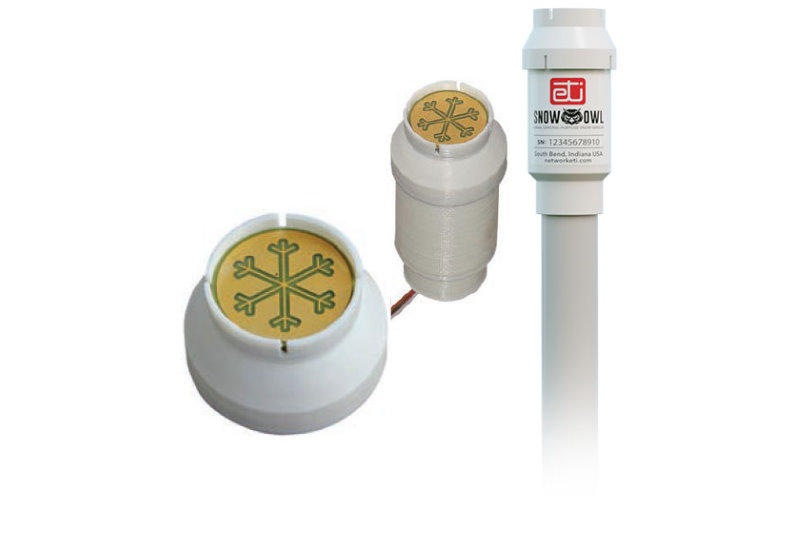 Aerial Snow Sensor for ETI
ETI-SOS
$400.00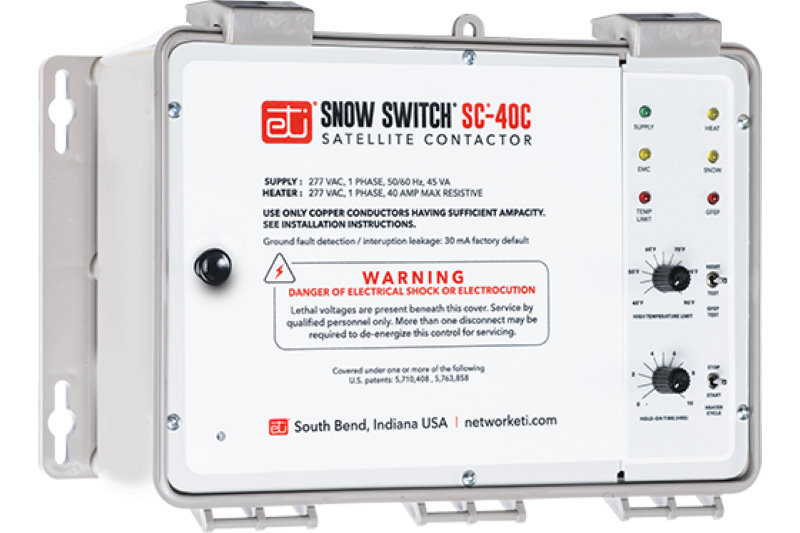 ETI Satellite Contactor with GFI for APS-4C (50A)
ETI-SC-40C-SO
$1528.00
How To Install NeverFreeze Driveway & Walkway Cable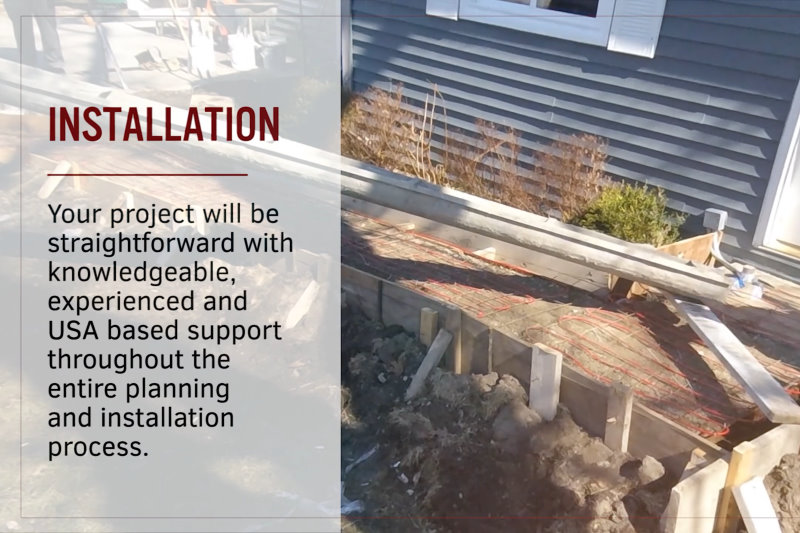 This overview does not substitute for a full reading of the Installation Manual.
The below steps will take you from beginning to end simply, but please refer to the full Installation Manual or call us to go over a more detailed installation plan.
NeverFreeze Snow Melting Mats and Cables are an easy way to eliminate the need for shoveling snow or using harmful de-icing chemicals, and NeverFreeze is compatible with almost any type of driveway, walkway, or patio material.
Before beginning your installation:
Plan the locations of all components, such as your sensor, relay box, and controller.
Take notes on locations and layout of cables and other components for future reference.
Consider the full process of the installation of the surface material before beginning.
1Run conduit for your Ground Sensor.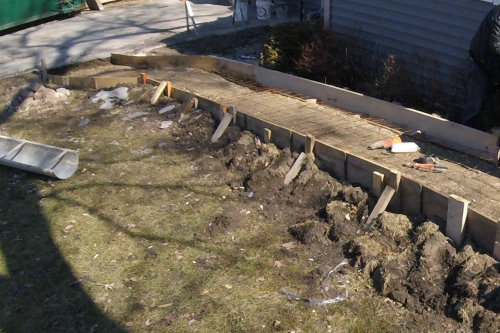 One end of conduit will lead to the controller, the other will end at the indended location of your ground sensor.
Use a wide enough conduit for easy installation and replacement of ground sensor if needed.
Fit the sensor sleeve in the conduit to suit the eventual installation of the sensor.
2Run conduits for the cold lead wires of the heating cables.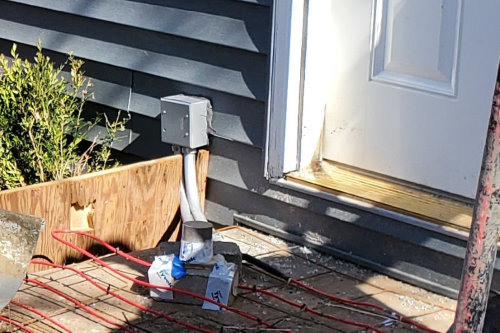 One end of conduit will lead to the controller or relay, the other will end at the indended beginning of the heating cable.
Use a wide enough conduit for easy installation of the lead wire.
3Lay out the heating cable along the ground.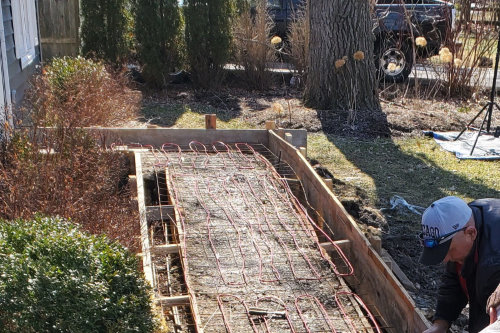 If using rebar or steel mesh, attach the heating cable to the rebar or mesh with zip ties or another fastener.
If not using a mesh, lay out the heating cable in the sand bed beneath the eventual surface material. Do not apply all of the sand before installing the heating cable as the heating cable must be covered by 1 inch of sand.
4Ensure that all heating systems are securely placed and begin laying the surface material.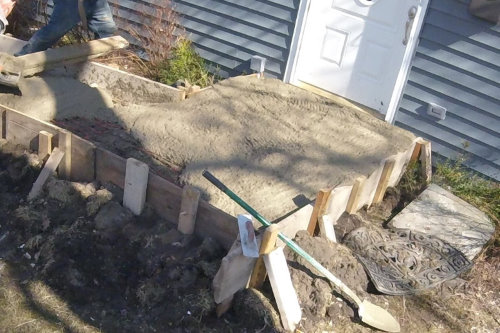 Take care not to cover the sensor sleeve or disturb the layout of the heating cable.
Giving proper cure time before applying heat can help your driveway, walkway, or patio maintain its intended structural integrity.
5Make the electrical connections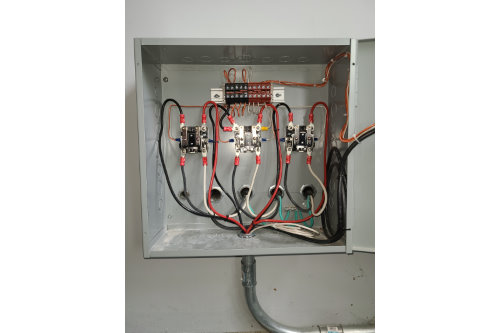 Always use a licensed electrician to make the final electrical connections.
NeverFreeze Driveway & Walkway Snow Melting Cable Documents
NeverFreeze Driveway & Walkway Snow Melting Cable FAQ
Will the snow refreeze into ice once melted?

The controls have special features that prevent refreezing. They allow the system to keep working for a time after the snow has melted to maintain a clear path.

Shop Now
How long will it take for the snow to melt?

On average, the system will melt 2 inches of snow an hour.

Shop Now
What is the lowest temperature that a snow melting system can handle?

The controls will usually cut the system off around 17°F but if needed, you can override this setting.

Shop Now
What type of conduit should I use to bring power to the heating cables?

Just pull the lead wire through a metal ¾" conduit pipe to the junction box with a wire nut connecting it to the electrical source. Always use a junction box rated for outdoors.

Shop Now
Will I need a new/expanded electrical panel for my snow melting system?

Usually you will need an expanded electrical panel for your system, but the amount of power needed will depend on the total coverage you choose. An entire driveway will require more power than tire tracks. Always consult with a qualified electrician.

Shop Now
How much power does the system use?

A mathematic formula will help you figure out how much power your system will require. The formula is: (50 W/sq. ft. x area of your heated space in sq. ft.) / Volts = Amps For instance, a 200 square foot driveway would look like: (50 W/sq. ft. x area of 200 sq. ft.) / V (240V) = Amps = 10,000 / 240V = 41.67 Amps For help determining your system's power usage, call us at (800)308-8057.

Shop Now
How much does the snow melting system cost to operate?

Many factors will determine the cost to operate your snow melting system. Total watts, kilowatts, kilowatt rate, hours spent operating, and remaining lag time will each play a role. For the example above (200 sq. ft. driveway), the breakdown would look like this: Watts = 200 x 50 =10,000 total watts Kilowatts = 10,000 watts / 1000 = 10 kilowatts Kilowatt rate = 10 kw x $0.15 = $1.50 per hour Operation = 4-hour snow = $1.50 x 4 = $6.00 Each project will vary so it is wise to keep lag time in mind when the system remains on to avoid refreezing. Electrical rates differ depending on location and time of day. For a more personalized estimate, call a ThermoSoft agent at (800)308-8057.

Shop Now
How much does a snow melting system cost?

Snow melting systems usually cost $7.00-$15.00 per square foot averaging $11.00 per square foot. Controls are sold separately. See www.ThermoSoft.com for more product details.

Shop Now
What happens if the cable is damaged during the installation?

If the cable is damaged, please call us immediately at (800)308-8057 and we can assist you further.

Shop Now
May I overlap the heating cable?

No, overlapping heating cables is never advised and will cause severe damage to your system. Always make sure you meet the spacing requirements.

Shop Now
May I cut the cold lead wires?

Never cut any wires before consulting with a qualified electrician who has read and understands the installation manual that goes with your system and the local requirements. He may cut, add extensions or splice them in a junction box. If you have any questions, call us and we can direct you further with any changes you wish to make.

Shop Now
Can I cut the heating cable if it is too long for the application for which it was designed?

Do not cut the heating cable under any circumstances. Cutting the heating cable will destroy your system and void its warranty.

Shop Now
How does the electric snow melting system compare to hot water tubing (hydronic) systems?

Electric systems and hydronic systems are close in price. However, electric systems offer benefits that hydronic ones cannot, like higher energy efficiency and ease of installation.

Shop Now
Features of NeverFreeze Driveway & Walkway Cable:
Eliminates costly plowing and labor intensive snow removal
Single point connection
Tough to withstand installation
ETL Listed in the U.S. and Canada
Industry leading Direct US based support
3-year warranty against manufacturing defects
Our Commitment to You
Supported by Real People
We know that being the best doesn't just mean superior products, it means backing them up with superior service.
Priority 1: Making You Happy
Creating joy and comfort with our heat applications is our primary motivation.
Industry-Best Value
American-made quality, easy installation, and safe operation. All competitively priced for the best value in radiant heating.
Innovative & Reliable Design
Pushing the industry forward with innovation and here for long haul with the greatest reliability. That's why our systems are in our homes too.
Understanding Your Needs
ThermoSoft is the best partner for your project because we know when to listen, and when to offer guidance.
Persistent Integrity
Our reputation is one of our best assets. We developed that reputation by delivering on every promise.