NeverFreeze® Pipe Tracing Cable
Electric Radiant Heat for Pipes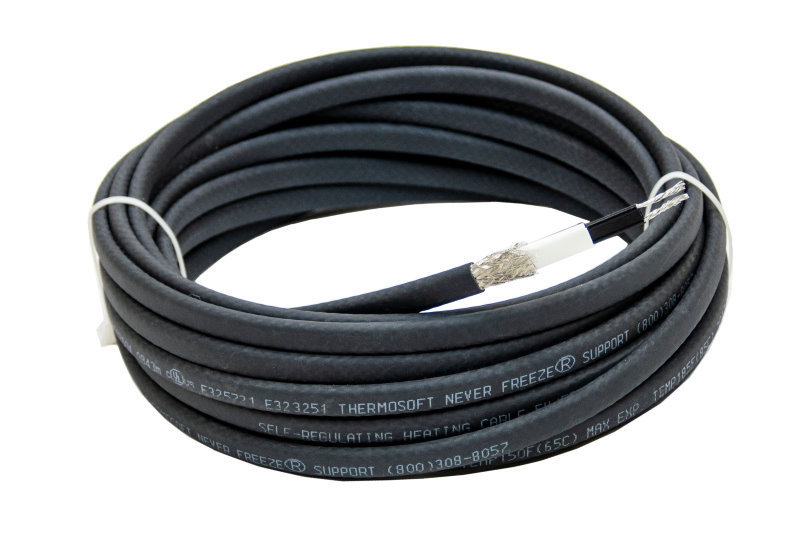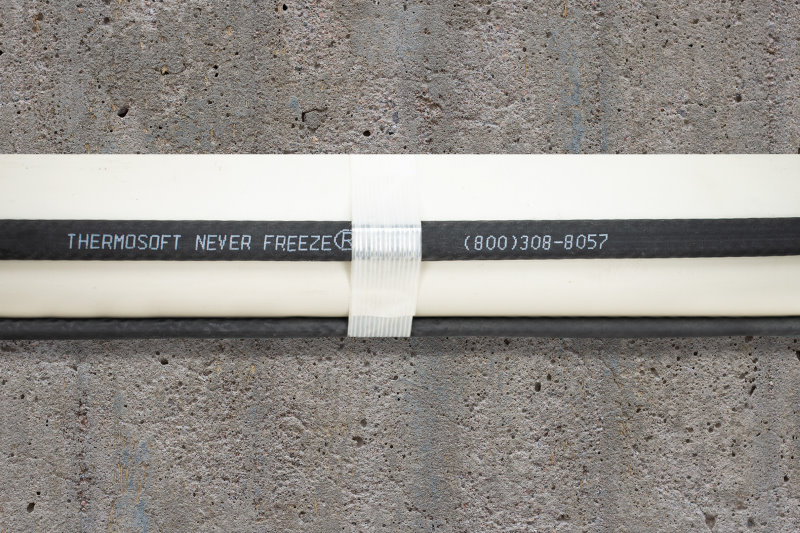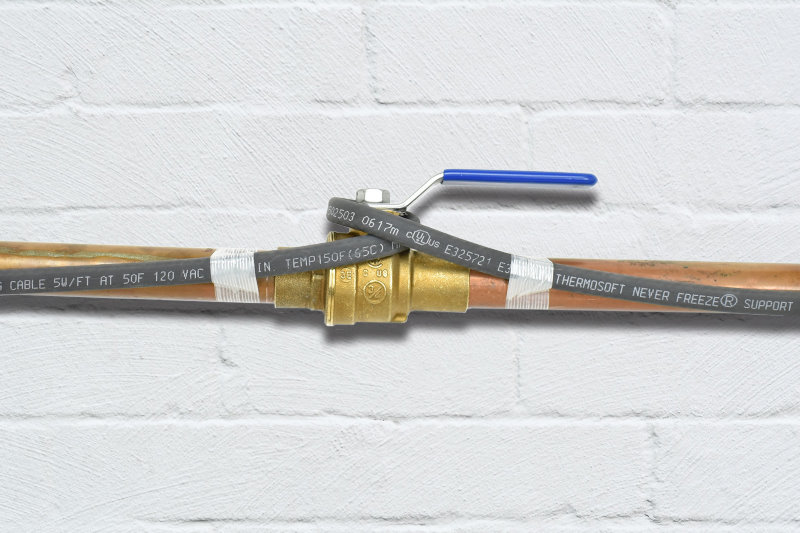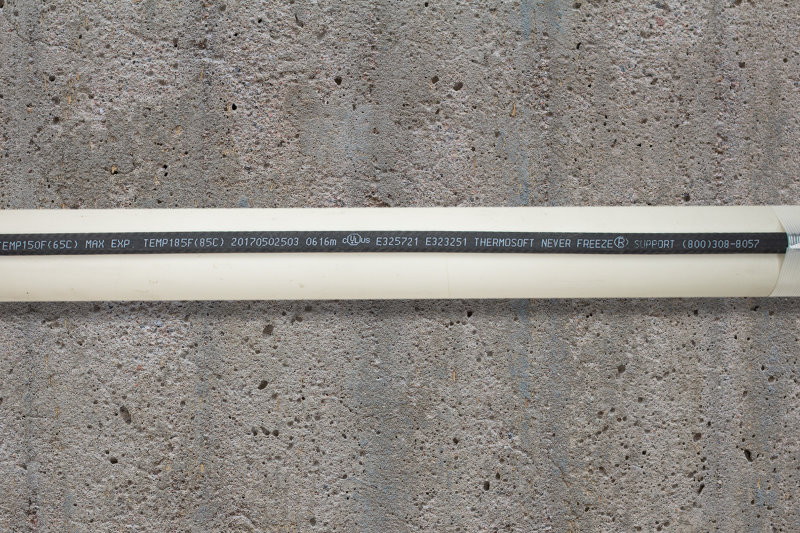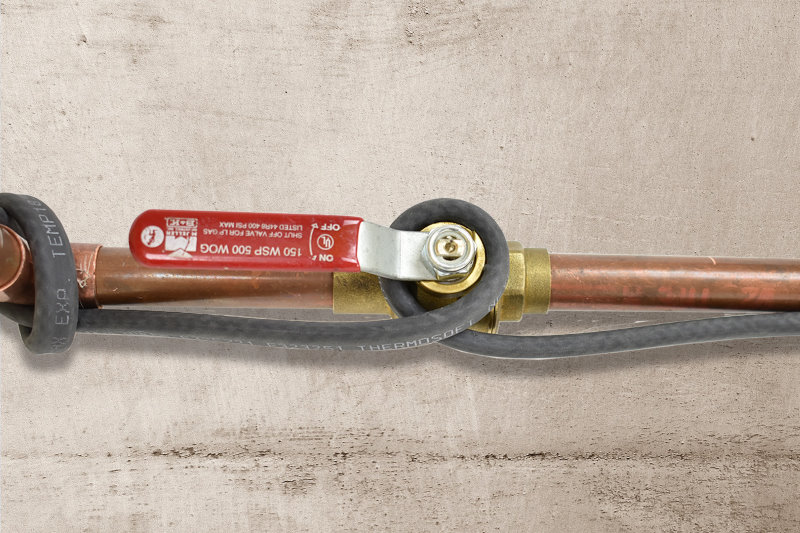 Shop Now
Designed for indoor and outdoor piping
Safe for straight, wrap-around, and overlap applications
Engineered for both residential and commercial applications
Single cold lead wire for easy hookup
Self-regulating temperature reduces power output
Drops in temperature can cause damage to your pipes if not properly cared for. Burst water pipes can cause flooding, leaks, and lead to dangerous mold and mildew later . Often, it is too late for prevention once an issue occurs and the damage is done long before anyone realizes. All the strife can be avoided easily and safely with NeverFreeze pipe tracing heating cable. Prevent costly damage and exhaustive repairs by easily installing the flexible cable ahead of time. Unlike other pipe tracing cables, NeverFreeze has unlimited installation methods, is ultra-flexible, and can be crossed along the spigot valve. Self-regulating heating elements reduce power output and consumption to the lowest possible point as the ambient conditions get warmer. Systems using self-regulating elements may not completely turn off without the use of an outside control.
Pipe Tracing Cable
Combine multiple cables to match intended length requirements per intended layout. Ensure that installation accessories and required controllers are also selected for a fully functioning system.Contact us for project assistance.
Item
Size
Power
Price
Qty
NFC5-120
5'
0.3A

40W

$47.85
NFC10-120
10'
0.7A

80W

$95.70
NFC15-120
15'
1.0A

120W

$143.55
NFC20-120
20'
1.3A

160W

$191.40
NFC25-120
25'
1.7A

200W

$239.25
NFC30-120
30'
2.0A

240W

$287.10
NFC35-120
35'
2.3A

280W

$334.95
NFC40-120
40'
2.7A

320W

$382.80
NFC45-120
45'
3.0A

360W

$430.65
NFC50-120
50'
3.3A

400W

$478.50
Page 1/10
Snow Melt Controllers & Sensors
Select a controller to power your pipe tracing system. Choose advanced controllers for energy savings. Contact an expert for guidance.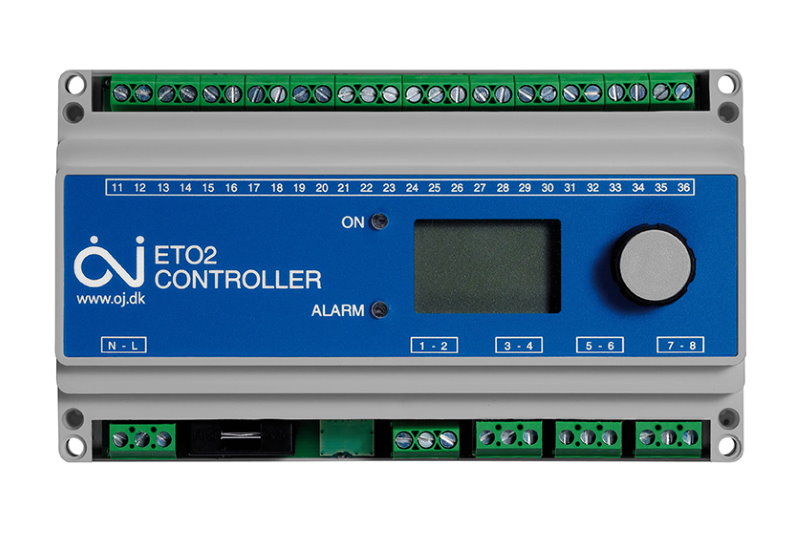 OJ Advanced Controller for Pilot Duty (15A)
ETO2-4550-US28
$749.00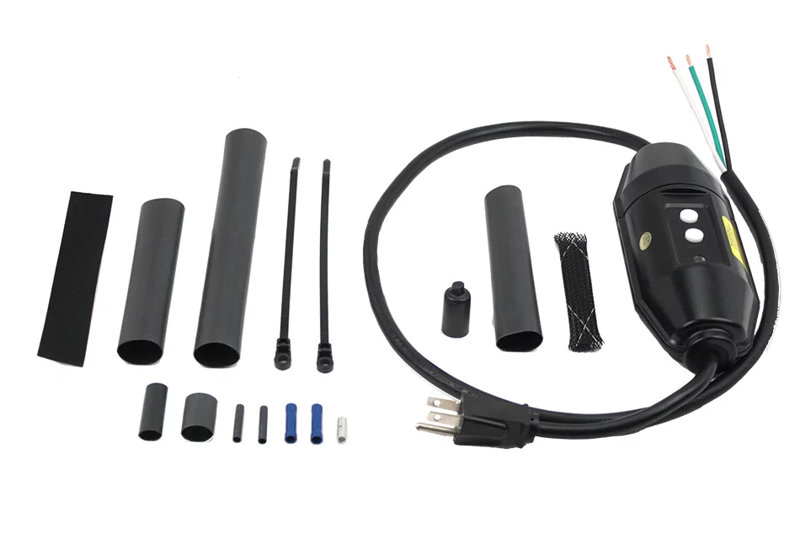 120V Plug-in GFCI Power Connection Kit
NF-GPPCK
$59.95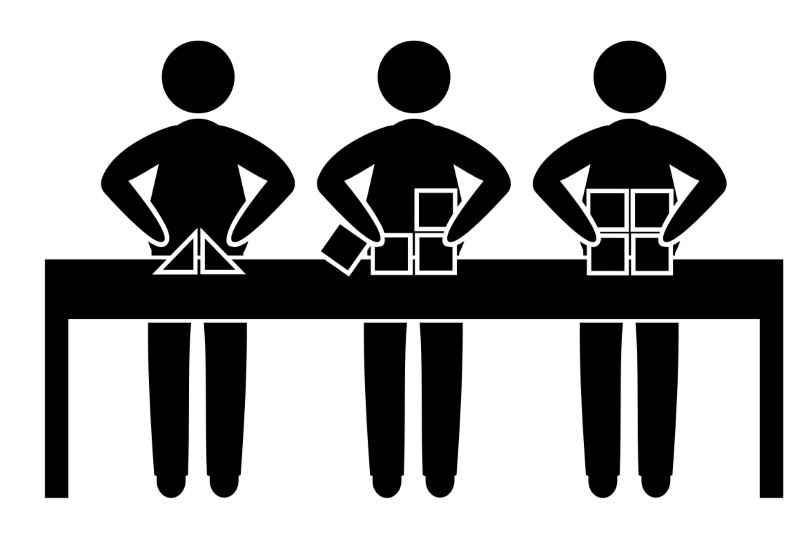 120V Plug-in GFCI - Factory Connection Service
NF-GPPCK-FC
$25.00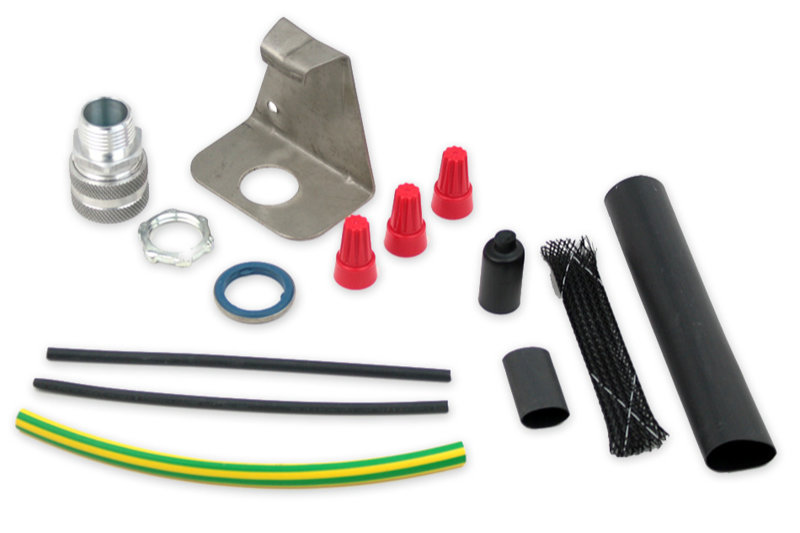 Roof and Gutter Power Connection Kit
NF-PCK
$24.95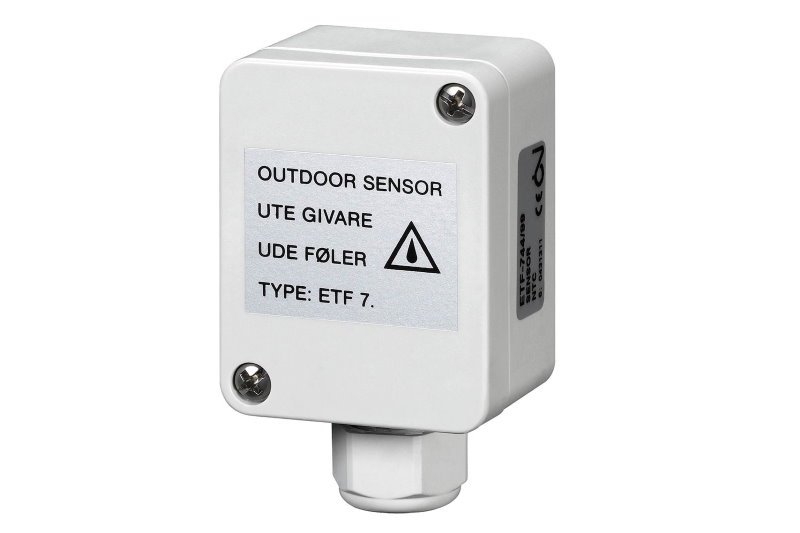 Air temp sensor for ET02
ETF-744/99
$73.99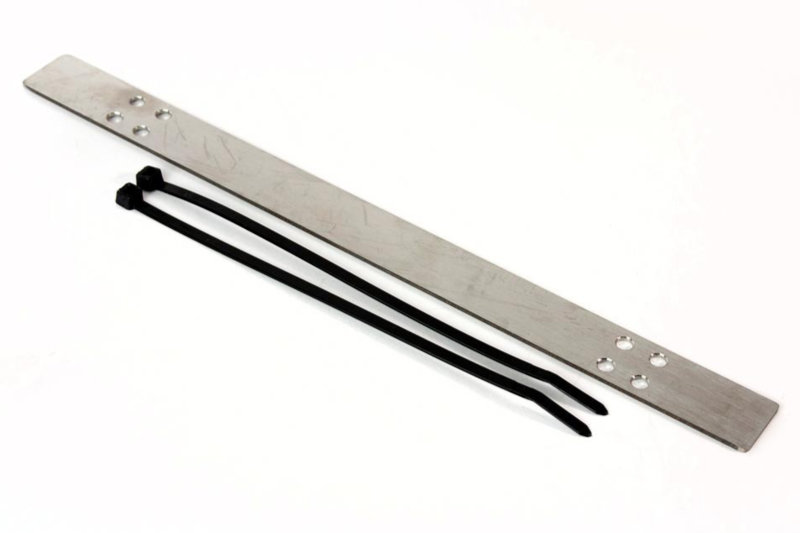 $12.95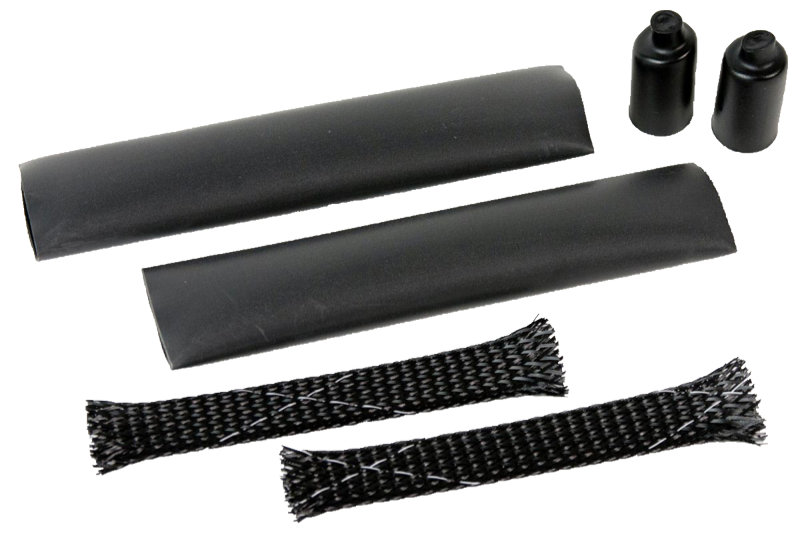 $10.95
How To Install NeverFreeze Pipe Tracing Cable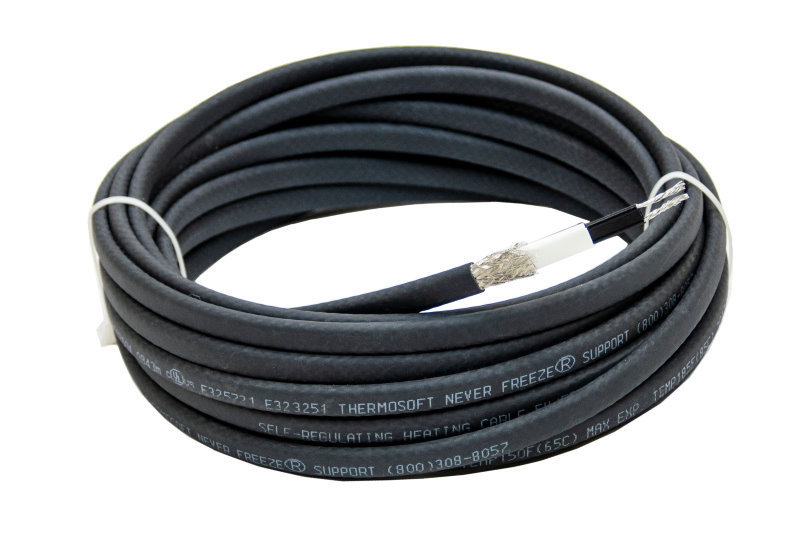 This overview does not substitute for a full reading of the Installation Manual.
The below steps will take you from beginning to end simply, but please refer to the full Installation Manual or call us to go over a more detailed installation plan.
Installing NeverFreeze Pipe Tracing Cables is an easy way to prevent burst pipes and resulting water damage.
Before beginning your installation:
Start with a clear and reasonably clean pipe surface.
Ensure that you have a safe and sturdy ladder and spotter if necessary.
Plan for the intended location of your controller(s) and select appropriate locations for your heating cable(s) accordingly.
1Make sure you have the right amount of material.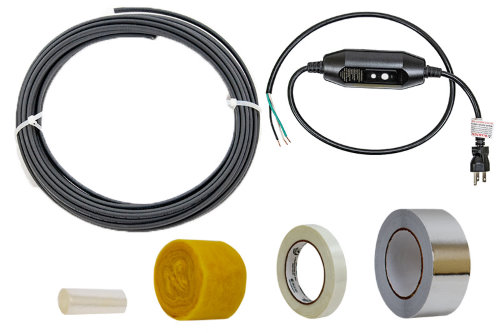 Contact support if you have any questions prior to your installation.
2Connect your GFCI plug-in to the heating cable unless you have purchased a factory-connected unit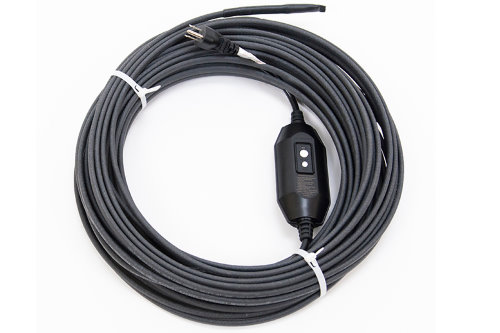 3Cut the cable to the desired length. Remember to include enough cable for spigots, valves, unions, elbows, supports, etc.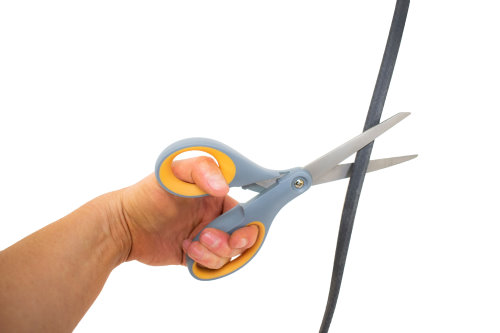 4Fasten the cable to the pipe with fiberglass tape, avoiding vinyl tape or wire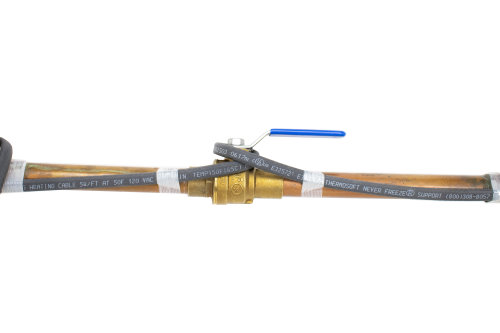 Tape should be placed at least every 12 in (1 ft).
5Cover with aluminum tape.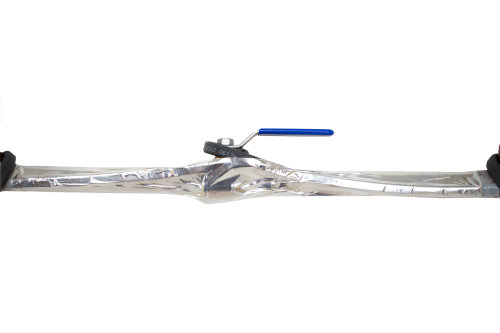 6Wrap insulation around the pipe, overlapping 1-2in every time around pipe, followed by plastic. Add caution label for every 10 feet.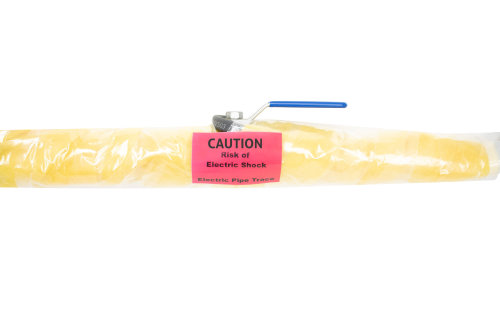 NeverFreeze Pipe Tracing Cable Documents
NeverFreeze Pipe Tracing Cable FAQ
Do I need a special controller?

No, all you must do is plug the attached GFCI Plug into an electrical outlet. You can also connect the system to an appropriate thermostat or controller.

Shop Now
Does the system turn off when not required?

No. NeverFreeze® self-regulating cable adjusts to the ambient temperature around it. By adapting to the environment, it uses no unnecessary power and it is extremely energy efficient. It can idle its output to a minimum temperature but does not completely shut off on its own. To do so, you must unplug the system or install it with an appropriate controller. )

Shop Now
Is a 120-volt system more energy efficient than a 240-volt system?

NO. The voltage does not indicate energy efficiency, watts do.

Shop Now
Is NeverFreeze safe on plastic pipes?

YES! NeverFreeze self-regulating cable is approved for safe use on plastic and metal pipes.

Shop Now
Does NeverFreeze pipe tracing cable require insulation?

NO! It is not required, but it is recommended for use with NeverFreeze heating cables. By adding insulation, the cables are less susceptible to damage and heat loss is greatly reduced.

Shop Now
Can NeverFreeze self-regulating heat cable go inside a wall?

NO! Electric code does not allow pipe tracing cables inside or behind walls. The system should be easily accessible for maintenance, service, and testing.

Shop Now
Can I install NeverFreeze pipe tracing cable myself?

YES! Although NeverFreeze self-regulating cable is extremely easy to install, NEC requires a licensed electrician to make any non plug-in electrical connections.

Shop Now
How much power does the NeverFreeze heating cable use?

TThe amount of energy the cable uses will depend on the location it is installed in, the length and the ambient temperature. The heat output adjusts according to ambient temperatures, which dictates energy consumption. The length of pipes will determine power usage. Monitoring and modifying can be done using a thermostat, timer or power meter.

Shop Now
Can I cut the NeverFreeze heating cable if it's too long?

YES! You can cut the self-regulating cable to the desired length. A licensed electrician should make any terminations.

Shop Now
How much cable do I need?

The amount of cable you will need depends on a few different factors. Call us at (800)308-8057 for help or to request a quote.

Shop Now
How do NeverFreeze pipe tracing cables work?

NeverFreeze pipe tracing cables are self-regulating, adjusting heat output based on ambient temperature. This drastically reduces power consumption and energy costs. Through its conductive polymer core, NeverFreeze cable prevents overheating and burning, even when overlapped and over insulted.

Shop Now
What is the power output of NeverFreeze?

5-8 watts/linear foot @ 0 degrees F. The output varies due to the cable being self-regulating. It will adjust its power continuously as the ambient temperature changes.

Shop Now
Can the cable be left out all year?

YES! The cable can be left outside all year. ThermoSoft recommends shutting the system off during summer months (or when inactive) then testing before use each season.

Shop Now
Features of NeverFreeze Pipe Tracing Cable:
Prevent burst water pipes and expensive repairs
UL Listed in the U.S. and Canada
3-year warranty against manufacturing defects
Easy installation and setup
Industry leading Direct US based support
Rated for indoor and outdoor use
Our Commitment to You
Supported by Real People
We know that being the best doesn't just mean superior products, it means backing them up with superior service.
Priority 1: Making You Happy
Creating joy and comfort with our heat applications is our primary motivation.
Industry-Best Value
American-made quality, easy installation, and safe operation. All competitively priced for the best value in radiant heating.
Innovative & Reliable Design
Pushing the industry forward with innovation and here for long haul with the greatest reliability. That's why our systems are in our homes too.
Understanding Your Needs
ThermoSoft is the best partner for your project because we know when to listen, and when to offer guidance.
Persistent Integrity
Our reputation is one of our best assets. We developed that reputation by delivering on every promise.