120V ThermoTile® Electric In-Floor Heating Mat - 75 ft² (1.5' x 50')
Radiant Heat for Any Floor Type When Embedded in Cement or Mortar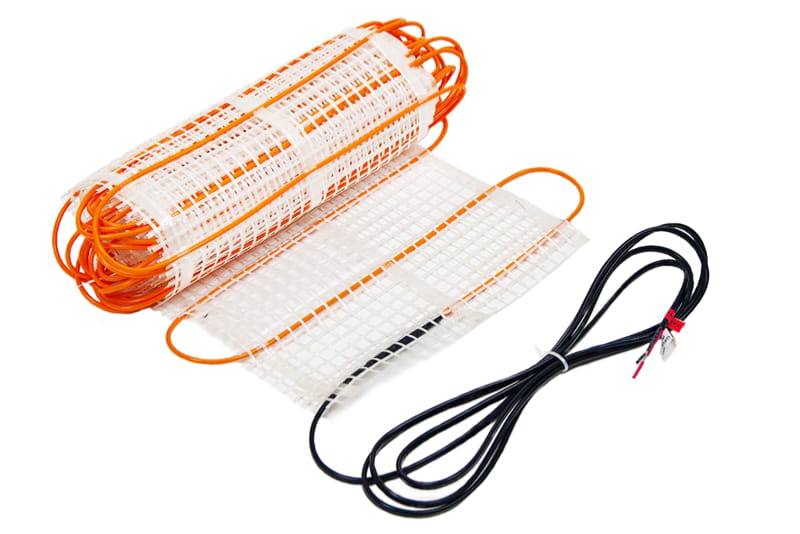 | | |
| --- | --- |
| Model: | TT50-120 |
| Power: | 900W / 7.5A |
| Length: | 50' |
| Coverage: | 75 ft² |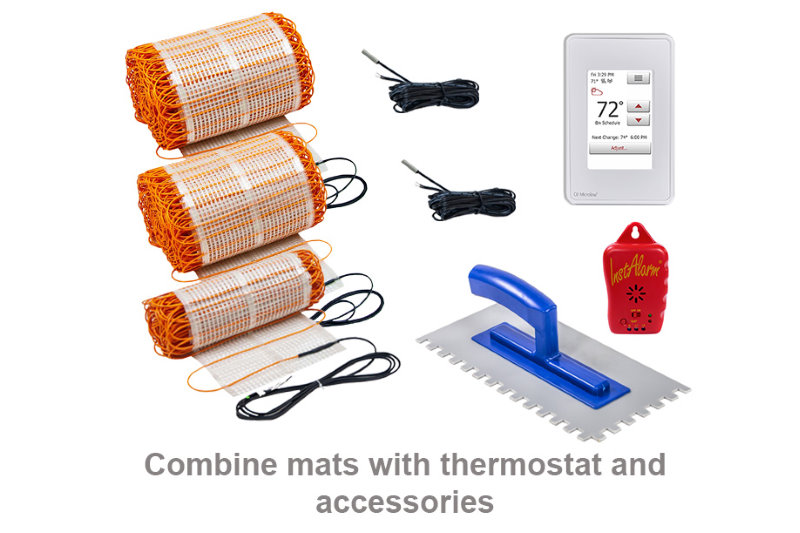 Plan your full project
Shop Complete Systems
Easy DIY install: Single 10' lead, 18" heating width, and easy cut & turn feature designed for tight spaces
Durable antifracture fiberglass mesh engineered to keep cable flat and strenghten floor
3/16" thin for minimal added floor height
12 W/ft² heat output with zero EMF
Made in USA & UL Listed
Love the elegant look of tile floors but dread the chill? ThermoSoft has the answer. ThermoTile mats can be installed under most types of flooring and are especially perfect for tile and stone. The easy installation of this 1/8 inch thick radiant in-floor heating system won't strain your muscles or your schedule. This innovative product can be manipulated to fit rooms of all shapes and sizes, and by embedding in cement or mortar, you have a safe and compatible heat system for any floor type. The installation of this heating mat will actually strengthen your floor!
How To Install ThermoTile Heating Mats
This overview does not substitute for a full reading of the Installation Manual.
The below steps will take you from beginning to end simply, but please refer to the full Installation Guidelines or call us to go over a more detailed installation plan.
ThermoTile Mats are an easy way to add heat to a tile floor, and can even work for almost any other type of floor covering.
Before beginning your installation:
Ensure that you have a structurally sound subfloor.
Confirm that your mortar or thinset cement is comaptible with your subfloor type.
Choose a starting point for the beginning of the heating mat(s), we suggest beginning near the planned placement of the thermostat.
1Make sure you have the right amount of material.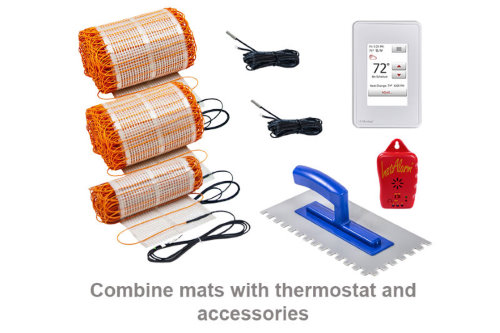 The mats should cover the entire floor space.
Follow heating cable spacing from walls and studs according to the manual.
Heating elements should be in areas where you can walk, stand, or want to heat. See your manual for areas to avoid heating.
Contact support if you have any questions prior to your installation.
2Prepare the conduit(s) and gangbox for the addition of the floor heating thermostat.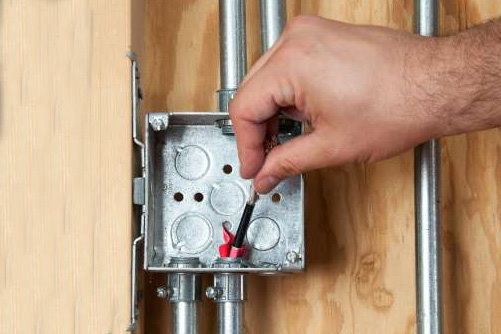 Complete electrical rough-in.
This step may be done after cable is laid but is more difficult to do later as location of thermostat may change location of heating system.
3Lay out the mats to cover your heated area.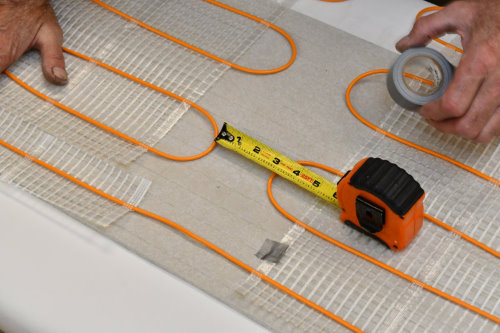 Cut the mesh to turn the mat and fit your room shape
Stay 3 inches off walls and 4-6 inches from toilet rings.
DO NOT cut the heating wire. To fit tight spaces, heating cable can be separated from the mesh and positioned 'loosely'.
4Position your floor temperature sensor and your backup sensor evenly between 2 heating elements.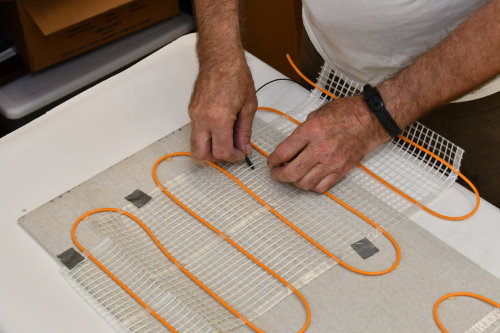 Place sensors close to the planned location of the thermostat, as the floor sensor is wired directly to the thermostat.
Weave the senor in the mesh so that the plastic end of the sensor is equally spaced between two heating elements.
If you did not order a backup floor sensor, we highly recommend ordering one now before the floor is installed.
5Spread thinset mortar or self-leveling cement over ThermoTile Mat(s).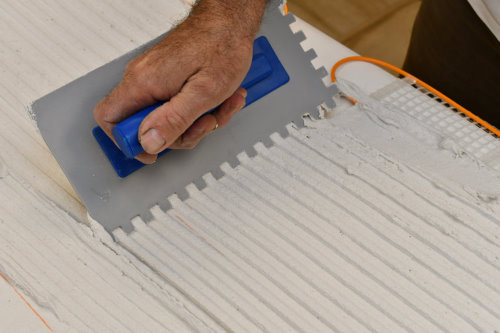 Use a plastic trowel if spreading mortar for tile or stone floors.
Use an appropriate self-leveler if planning a carpet, laminate, wood, or vinyl installation.
6Lay tile and grout as normal.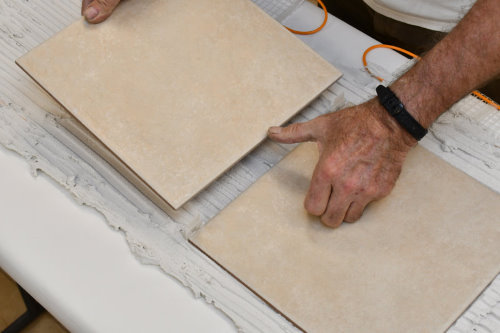 Take extreme care not to allow a sharp tool to damage your heating system. These final 2 steps are the most common instances of accidental damage to the heating cable or other wiring.
ThermoTile Mats Documents
ThermoTile Mats FAQ
What are ThermoTile mats?

ThermoTile Mats are the main heating component of a complete electric in-floor heating system for tile, stone and other floor coverings. ThermoTile is available as either a mat system or loose cable. In either form, ThermoTile uses FiberThermic heating elements, or high-quality heat cables to apply gentle radiant heat to your flooring. In loose cable, ThermoTile give you the greatest flexibility by arranging in any pattern with either FixFast strips or an uncoupling membrane. As a ThermoTile mat, your project is even easier to lay out because we have spaced and arranged the cable for you, and your floor is strengthened by the fiberglass mesh used to create our mat!

Shop Now
Are ThermoTile mats safe for my home or business? What about Electromagnetic Field (EMF)?

Yes. All our floor heating solutions endure rigorous development and quality control testing in our US manufacturing center to ensure that your floor heating system is reliable and safe. Due to the shielding used in ThermoSoft products, our radiant heat systems add virtually zero EMF.

Shop Now
Can I use ThermoTile with my floor material?

ThermoTile is one of our most universally applicable floor heating systems. Obviously, it is most frequently used under tile, because it uses a fiberglass mesh to add strength and durability to a tile floor installation. This doesn't mean it is only for tile, as ThermoTile can be embedded in a thin-set or self-levelling cement and laid under almost any material. Almost any floor covering you would like to heat can be heated by ThermoTile, just keep in mind that for materials like wood, vinyl, or laminate, we might have an easier-to-install system available rather than ThermoTile

Shop Now
How do I install ThermoTile mats? How does it all get connected?

ThermoTile is embedded in mortar or self-levelling cement under your chosen floor material. Just have an electrician make final connections to the thermostat and to your home's electrical system. Explore our installation guides and resources for more information! ThermoTile mats or cables are then wired to a floor heating thermostat wired in parallel. The number of mats and layout of the room will affect the exact process of how to wire things together. Please see the full ThermoTile Installation Guidelines for explicit directions.

Shop Now
Will ThermoTile mats add height to my floor?

No, tile installation projects will not see any added floor height. However, if you are deciding to apply ThermoTile under a vinyl floor, for example, the need for self-levelling cement poured over the heating mats will cause an addition to the floor height that you would need to plan around. Remember, ThermoSoft does offer ThermoFloor and WarmStep as options that do not need to be embedded in cement to be installed under a wood, vinyl, or laminate floor.

Shop Now
Can I combine more than one ThermoTile mat to fit a space?

Many projects involve using more than one mat or cable, but this means that multiple mats are wired in parallel to the thermostat. The thing to remember is that you are not daisy-chaining cables or extending the mats, but rather the mats are working together to cover the appropriate square footage.

Shop Now
Can I cut, shorten, or reshape the system?

Yes, not really (no cutting heating elements!), and yes. The fiberglass mesh that is used in ThermoTile mats is meant to be cut in order to reshape the mats in a "cut and turn" method. You CANNOT cut the heating wire as this will alter the performance of the heating element and void your warranty. This "cut and turn" method might end up effectively shortening the mat system and depending on the number of mesh cuts and turns, you may "shrink" the coverage area of loose cable. However, and we know we sound like a broken record here, but you CANNOT cut the heating elements and maintain performance and warranty coverage. The best answer to the questions about cutting, shortening, and reshaping ThermoTile? Just give us a call so we can match the right size mat or length of cable to suit your needs!

Shop Now
Can I shorten the lead wires?

The lead wires, also known as cold leads because they do not produce heat, can be cut, shortened, or spliced with additional cable to lengthen them.

Shop Now
What do I do with areas not covered by the heating system?

ThermoTile mats or cable allows for almost complete coverage of most room sizes and shapes because of the flexibility of arranging loose cable or cutting and turning the mat system. However, almost every project will result in some areas that are not heated. This is entirely normal, and any competent floor installer will be able to achieve a fully level bed of mortar or self-levelling compound throughout the heated and non-heated areas.

Shop Now
Is this mesh on ThermoTile mats something that I really want in my floor?

We see a lot of our competitors use mesh that is just barely "good enough" to achieve a mat layout. That wasn't something that we were comfortable doing, so we selected a high quality, exceptionally strong, anti-fracture fiberglass mesh that adds strength and durability to your floor. As always, consult with a qualified building professional in your area to make your decisions about your building materials, but we are confident they will be satisfied with the components of ThermoTile.

Shop Now
How many watts per square foot does ThermoTile output?

This figure can vary if the cable spacing deviates from the 3 inches on center spacing, but the standard output is about 12 watts per square foot.

Shop Now
How much will it cost to run this system?

The cost to operate is a complicated question to answer, as electrical rates vary by area, and even by time of day. Additionally, a cost-to-operate is further complicated because the money spent on your radiant heat can result in a net savings on total utilities cost due to reduced use of your traditional HVAC, which is added to by the fact that you will spend less on HVAC system maintenance by relying on electric radiant heat. So, keeping in mind the nuances of describing the operating costs of an electric radiant heat system, we recommend talking to one of our experts about the operating cost of your individual project.

Shop Now
How hot does ThermoTile get?

Sometimes, we like to answer a question with a follow-up question. Usually, we are asked about "how hot" a system gets for a couple of reasons, so it is important to respond with: Why do you ask? Are you concerned about providing enough heat to adequately warm your space? If so, a properly installed ThermoTile can provide about 10-15 degrees Fahrenheit of temperature difference above the ambient temperature of the room. In practice, this is more than enough, even in extremely cold climates. We are positive that you will be entirely satisfied with the heat produced by ThermoTile. Are you concerned about applying too much heat to your chosen floor material? If so, fear not! ThermoTile is designed to have a gentle, reliable, and consistent delivery of heat to your floor material. ThermoTile in either mat or cable configuration is most frequently applied under tile, which is a floor material that can handle a high variation in temperatures. If you are heating a more temperature sensitive floor material, you can ensure a healthy floor with appropriate use of your thermostat. Just give us a call if you need some guidance. Lastly, we highly recommend choosing a thermostat that includes a temperature limiter if this is one of your concerns!

Shop Now
How long will ThermoTile last? How long is the warranty for ThermoTile mats?

ThermoTile requires no regular maintenance once installed correctly and if left undisturbed (remember your radiant system is down there when planning a remodel!). ThermoTile mats and cable have a lifetime limited warranty and we have yet to see a mat fail due to old age. The thermostats that we offer are warrantied for 3 years because we only use thermostats with GFCI protection which, per national electric code, should be replaced every 3 years. Replacing a thermostat is simple, easy, and inexpensive.

Shop Now
I'm still confused about ThermoTile mats.

Then call us, email us, or message us through our website!

Shop Now
Features of ThermoTile Mats
Made in the USA
Designed to minimize time and labor
UL Listed in the U.S. and Canada
Zero EMF
Compatible with all floor coverings
Floor heating adds comfort and property values
Tough to withstand installation
Pair with insulation for faster heat-up
Designed for life
Smart when combined with a WiFi thermostat
Backed by a Lifetime Warranty
Our Commitment to You
Supported by Real People
We know that being the best doesn't just mean superior products, it means backing them up with superior service.
Priority 1: Making You Happy
Creating joy and comfort with our heat applications is our primary motivation.
Industry-Best Value
American-made quality, easy installation, and safe operation. All competitively priced for the best value in radiant heating.
Innovative & Reliable Design
Pushing the industry forward with innovation and here for long haul with the greatest reliability. That's why our systems are in our homes too.
Understanding Your Needs
ThermoSoft is the best partner for your project because we know when to listen, and when to offer guidance.
Persistent Integrity
Our reputation is one of our best assets. We developed that reputation by delivering on every promise.